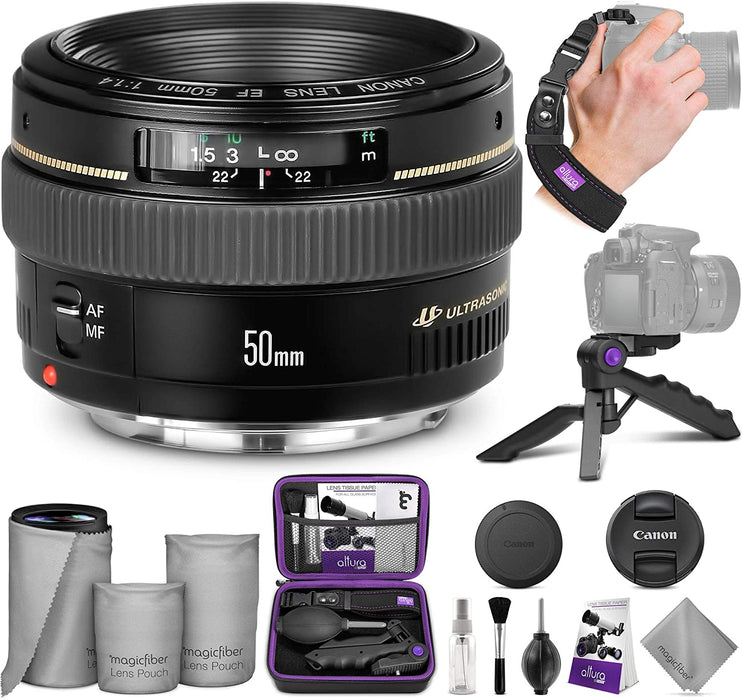 Canon EF 50mm f/1.4 USM Standard Telephoto Lens with Altura Photo Essential Accessory Bundle
This product ships from the United States
INCLUDES: Canon EF 50mm f/1.4 USM Autofocus Lens + Altura Photo Mini Tripod with Pistol Grip + Altura Photo Rapid Fire Wrist Strap + Altura Photo Hard-Shell Case + Altura Photo Accessory Kit + 3 Sizes MagicFiber Microfiber Lens Pouch
HIGH PRECISION TELEPHOTO LENS: Features an Ultrasonic-type AF motor with full-time manual focusing, Aperture ranging from F1.4-F22, 58mm Filter Size. Ideal for a multitude of shooting situations and ideal for day-to-day shooting.
CANON brand accessories included: Canon EF 50mm f/1.4 USM Lens + E-58 II 58mm Lens Cap + Lens Dust Cap E (Rear) + Canon Limited 1-Year Warranty
COMPATIBLE with all Canon Cameras, including EOS 7D Mark II, 70D, 77D, 80D, Rebel T3, T3i, T4i, T5, T5i, T6, T6i, T6s, T7, T7i, SL1, SL2 APS-C Cameras, and EOS 5D Mark III, 5D Mark IV, 6D Mark II, 5DS, 5DS R, 1Dx Mark II Full Frame DSLR Cameras.
CANON AUTHORIZED DEALER. Includes Canon USA Warranty.