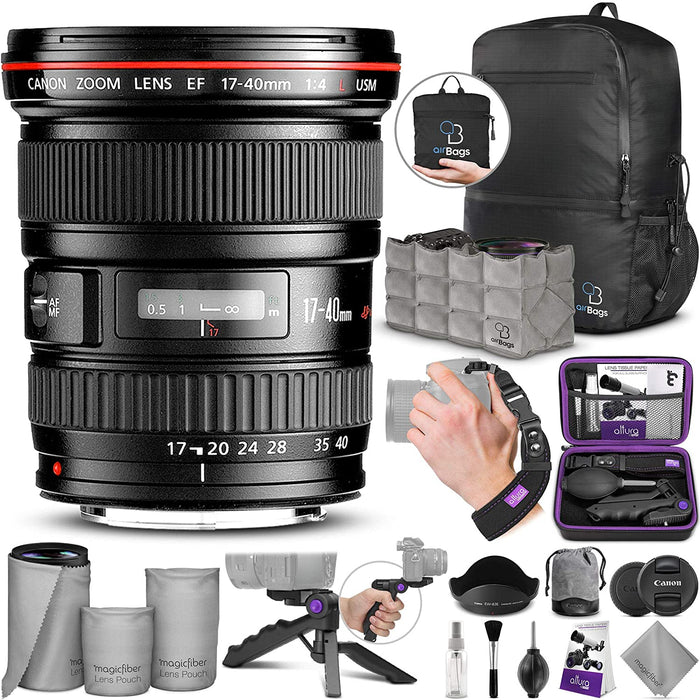 Canon EF 17-40mm F/4L USM Ultra Wide Angle Zoom Lens with Altura Photo Essential Accessory and Travel Bundle
This product ships from the United States
INCLUDES: Canon EF 17-40mm f/4L USM Ultra-Wide Zoom Lens + AirBag Packable Bag and Camera Insert + Altura Photo Mini Tripod with Pistol Grip + Altura Photo Rapid Fire Wrist Strap + Altura Photo Hard-Shell Case + Altura Photo Accessory Kit + 3 Sizes MagicFiber Microfiber Lens Pouch
HIGH PERFORMANCE LENS: Features the use of three aspherical elements, in addition to a Super UD glass dispersion. A powerful ring-type ultra-sonic motor that produces fast and silent autofocusing, weather resistant construction and a 77mm filter size. (Includes: Front and Rear Lens Caps, EW-83E Lens Hood, Lens Case).
CANON brand accessories included: Canon EF 17-40mm f/4L USM Lens + E-77 II 77mm Lens Cap + Lens Dust Cap E (Rear) EW-83E Lens Hood + Lens Case LP1319 + Canon Limited 1-Year Warranty
COMPATIBLE with all Canon Cameras, including EOS 7D Mark II, 70D, 77D, 80D, Rebel T3, T3i, T4i, T5, T5i, T6, T6i, T6s, T7, T7i, SL1, SL2 APS-C Cameras, and EOS 5D Mark III, 5D Mark IV, 6D Mark II, 5DS, 5DS R, 1Dx Mark II Full Frame DSLR Cameras.
CANON AUTHORIZED DEALER. Includes Canon USA Warranty.