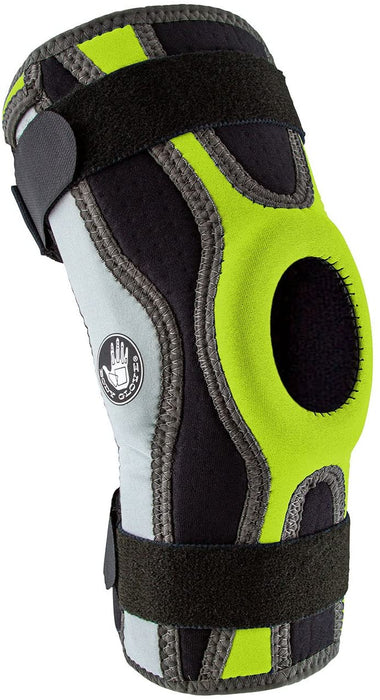 Body Glove Sports Wrap Knee Brace - Injury Prevention Removable Bilateral Hinges - Knee Wrap Supports Mild ACL, PCL, MCL Sprains - Patella and Meniscus Tear Pain Relief (Green
This product ships from the United States
ALLEVIATES PRESSURE AND STABILIZES KNEES - Knee injuries can occur from muscle imbalance, overuse or misalignment resulting in pain under or around the kneecap. Knee ligament injuries are common whether you're a runner, athlete or do knee-impacting exercises. That's why we created the Body Glove knee support brace . If you experience pain when bending your knees, walking, running or using the stairs, our premium knee wrap offers full support. Ideal to wear daily as a preventative measure too .
SUPERIOR CONTROLLABLE PRESSURE DESIGN - Our meniscus knee brace features 5mm perforated SBR (styrene-butadiene rubber) material and a stretch webbing closure system to ensure a precise, proper fit with controllable compression that moves with you. Our design team made certain this knee wrap is not only functional and effective, but also stylish. We added flexible, bilateral removable hinges to reinforce unstable, damaged ligaments and sprained knees during a variety of activities.
MOVE FORWARD WITH TOTAL CONFIDENCE - Don't let past knee injuries keep you from being active. Our knee support brace and binding are built for rigorous activities and long lasting comfort f or mild ACL, PCL, and MCL sprains, menisci and patellar retinaculum injuries or basic instabilities. Whether you're an athlete or exercise regularly, our wrap around open patella support allows for quick and easy use so you can enjoy natural movement during flexion and extension.
DRUG FREE WEARABLE KNEE PAIN RELIEF - Need to wear a knee brace under pants with long lasting comfort? No problem. That's why we used 5mm thick durable SBR material. It's barely noticeable. Firm with flexible and adjustable straps, wrap our hinged knee brace before you head to the gym, work, mall or gathering. Enjoy doing the things you love without pain. You can trust our bilateral knee brace provides dependable stability required for a knee injury, post surgery and arthritis.
MADE TO HIGHEST STANDARDS - We are the inventors of the first practical wetsuit which revolutionized surfing and diving in 1953. We came up with "fits like a glove" which led to the Body Glove name. We are proudly one of the last family owned dive and surf companies. We pledge to continually build products that enhance and protect us both above and below the water's surface. Our sports knee brace , like every product we sell, passes through the strictest requirements. We guarantee it 100%!