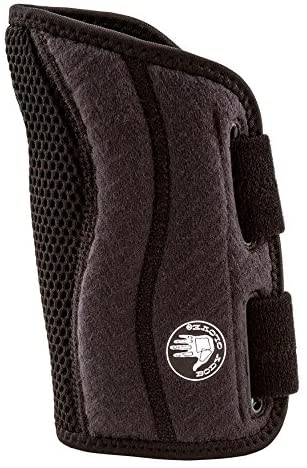 Body Glove Comfort Wrist Brace - Adjustable Carpal Tunnel Wrist Wrap - Breathable, Comfortable Wrist Brace Offers Tenosynovitis, Sprains, Injury, Post-Surgery, Chronic Wrist Pain Relief
This product ships from the United States
PROTECTIVE ADJUSTABLE WRIST SUPPORT - We've created the ultimate anatomically contoured fit Wrist Brace . The inside is made with a durable, soft and ecologically friendly sports fleece with a breathable mesh layer to keep air circulating. We included boning to the structure around the wrist to hold its shape while fully delivering necessary wrist support . The two thick, sturdy Velcro straps enable you to customize your desired compression level for a perfect secure fit.
THE ULTIMATE WRIST PAIN RELIEF WRAP - Our wrist braces provide ligament stability caused by a sprained wrist , muscle strain, carpal tunnel syndrome , tenosynovitis , injury or chronic pain. This wrist support relieves weak or post-surgery wrists while your thumb and fingers maintain full dexterity and range of motion. The surfaces both inside and out are designed to be smooth and non-irritating while keeping your wrist in a safe, healthy, neutral position.
PROMOTES DEPENDABLE STABILIZATION - One size fits most adults and accommodates wrists with a circumference of 6 - 10 inches. The wraparound style is easy to put on and take off. Our wrist brace support preserves wrist safety without limiting thumb rotation and acts as reinforcement during extending and bending. Wearing our Body Glove wrist brace minimizes excess pressure on the median nerve and prevents extreme wrist actions.
SUPERB COMFORT FOR EVERYDAY USE - Ideal for gamers who enjoy playing for long hours and need real wrist support . If you move inventory, shipping/receiving or work at a job that requires the use of a mouse and keyboard, wear our trustworthy carpal tunnel wrist brace to combat repetitive tasks that strain your wrist. This tendonitis wrist brace can also be used to help reduce strain associated with hobbies, working with tools, writing and sporting activities.
MADE TO BEST IN CLASS STANDARDS - We are the inventors of the first practical wetsuit which revolutionized surfing and diving in 1953. We came up with "fits like a glove" which led to the Body Glove name. We are proudly one of the last family owned dive and surf companies. We pledge to continually offer products that protect us both above and below the water's surface. Our Sport Wrist Brace , like every product we sell, passes through the strictest requirements. We guarantee it 100%!